Job campaign banner background
You may also be interested in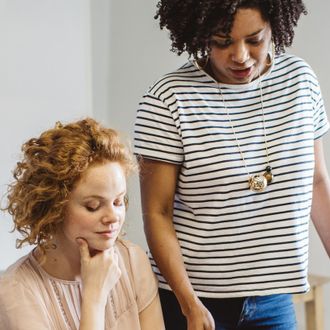 Article
Seven strategies to ensure your tech recruitment process is inclusive for all
​​Inclusivity, and diversifying your workforce, are the best ways to organically expand your talent pool and increase the longevity of your employees.Here are some of the key dos and don'ts of inclusive recruitment:What is inclusion and diversity?"Without inclusion, diversity is doomed to fail." Devi Virdi, Group Head of Diversity and Inclusion at Centrica. Inclusion is the act, and diversity is the result. Inclusion and diversity (I&D) is now recognised as an essential part of business. It's not just a tick-box exercise or a 'nice to have'. Once your company adopts an inclusive culture, the more diverse your company will become.Diversifying your workforce has many positive outcomes, such as better employee wellbeing, productivity, and longevity. Creating an environment where people can bring their full selves to work can significantly increase employee attraction and retention because people will recognise your company or team as a place where they can love Mondays.There is also a strong business case for it, which is often overlooked. In the UK, for example, according to inclusion and diversity champion INvolve and the Centre for Economics and Business Research, discriminatory pay practices cost the economy £127 billion in lost output every year. That means, there is a high return on investment in inclusion training and preventing discrimination and closing pay gaps.Seven steps to an inclusive recruitment processRethink your fundamental requirementsThere are certain roles for which neurodivergent people would be perfect, like data analytics roles, but the barriers to entry include requiring "excellent interpersonal skills" or being a "team player."In this case, professionals with conditions like autism are far less likely to apply for those roles because they do not believe this applies to them, despite being more likely to have the focus and skills needed than a neurotypical person. Employers must rethink what the fundamental requirements for the job are and consider whether your advert reflects this.Develop grassroots talentDoes the perfect candidate really need a degree or five years' experience, or could you find someone with the right mindset and potential and train them with the skills you need?Or, if someone has the right skills and experience, but their soft skills are lacking, they may benefit from a mentor to build their confidence.Watch your languageFor employers to receive more applications and make the process accessible to everyone, you must be conscious of the language you use in your job adverts. Using inclusive language is an easy way to indicate that everyone is welcome to apply and be considered, if they believe they are the right fit for a role.Gender neutrality is a simple way to ensure you don't limit your talent pool and unintentionally alienate suitable candidates. One way to avoid this is to use online tools to eliminate gender-coded language from your person specifications, job descriptions and adverts which often go unnoticed​.Remove barriers to entryThe placement of your job adverts is an often-overlooked consideration. Those who place their ads in tech magazines that require paid subscriptions might be excluding groups from lower economic backgrounds, for example.Employers must also ensure that their application forms are inclusive of all genders, sexualities, ethnicities etc. by including an "Other" or "I'd rather not say" option, to give them space to tell you who they are if they wish to. It must be optional, or you could end up forcing someone to come 'out' prematurely.Create a diverse interview panelThe first impression of your team takes place at interview and a lack of diversity could impact a professional's decision to accept your job offer. It would benefit employers to think about how diverse their hiring panel is and do their best to represent the variety of people in their company.Conversely, you must not over-correct and cherry-pick the same few people to be the 'face of diversity' or to hire certain people just to fill a quota in your company – no one wants to be tokenised or seen as a 'diversity hire'.Ask the right questionsSome employers don't know what they legally can and can't say, or ask, in a job interview. Training should be provided to each hiring manager to ensure they understand the dos and don'ts of interviewing. Generally, an interview question is illegal and discriminatory if you couldn't ask everyone the same question.One example that comes to mind is asking a woman if she is pregnant or thinking of having a baby one day. You couldn't possibly ask the same question to a cisgender male candidate, which makes it discriminatory to ask of women. Asking everyone the same core set of questions will give your interview a good basis for objectivity.Negate any biasEveryone has their biases, but these should not influence your hiring decisions. Business leaders should ensure their hiring managers receive sufficient training in unconscious bias so they can identify their own biases and make more informed hiring decisions.Working with a recruiter such as Reed, where CVs are anonymised before being sent over to you can also help here. It means you can make a decision on potential employees without being swayed by certain information available on their CV.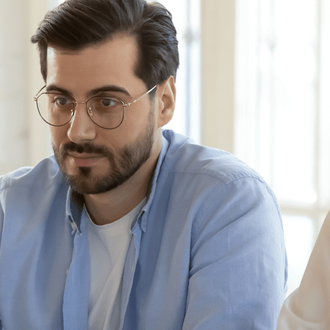 Article
Second interview questions to ask candidates
​The second interview may seem like there is a light at the end of the tunnel after weeks of recruitment to find someone for an opening at your business. Your previous interviews have removed candidates who don't fit the role, which leaves only a handful of people, one of whom you most certainly will be working with in the near future. But working out who this person should be is often decided by running a second interview.The second interview is an important comparison task for you and your team and therefore the questions you use need to give you some real insight into the person you may employ. Yet, just as in your first round of interviews, asking the right questions can be crucial in order to understand if a candidate is suitable for the role.Although there are never a fixed set of questions to ask in the second interview, here are our selection of questions for employers to ask which will hopefully allow you to understand a candidate more fully before making a decision on who to hire.​Second interview questions to ask candidates:What are your personal long term career goals?The way your candidate answers this question will give you an insight into where they would position themselves within your company in the long term. If they answer directly referencing your business then they are thinking of remaining within the company for the future and will work hard towards achieving their own career goals whilst working hard for the business. It also allows for you to gauge their personality as their honesty will be very important when making a final decision about who to hire.Do you have any questions about the business or the role since your first interview?This gives your candidate the opportunity to ask questions they may not have thought of during the nerve-wracking first interview. This is good for both of you as it allows you to see how much they have prepared for this interview but also gives them the chance to ask the really good questions they probably thought of on the journey home from the first time they met you.What skills do you think are needed for this role?This does not directly ask them what they could offer but questions their ability to comprehend the role and think critically. It then invites them to state the skills they have and how they compare with what they think is needed.Why would you not be suitable for this role?This asks your candidate to think about problem and resolution - how they would overcome any professional issues they may have in the role. How positive they are in answering this question gives you an idea for their own motivation for achievement.What changes would you make at this company?This invites your candidate to analyse the business constructively from the research they may or may not have undertaken prior to the interview. It gives you the opportunity to see how they would deal with negative questions and how they would positively bring about change. Good answers could include more specific training or offering more responsibility to certain members of the team.How soon would you be able to start this role?This is quite a typical question but an important one as the logistics of taking on new staff can be an administrative nightmare. It can be purely comparative as some candidates will be able to start sooner than others. It also shows their commitment to their current roles and how professional they are in their conduct. If they mention leaving their current position without serving notice they may do this to your business as well.Ultimately, good questions are essential in establishing who will be best for your business. Hopefully, having met with a candidate for the second time, you will have a much better understanding of their skills, capabilities and – most importantly – whether or not they would be a good fit for your business.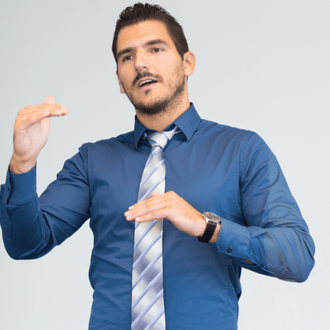 Article
How to prepare for an interview presentation
​Particularly for executive level positions, a presentation stage can be an integral part of the short-listing process.Many employers opt for a presentation interview as it gives a better overview of your general aptitude when compared to (or combined with) a traditional question and answer interview. The presentation is your opportunity to showcase your knowledge, experience and communication skills as well as your general organisation and diligence.Here are our tips on how you can ensure you deliver the best interview presentation possible.Preparing your presentation for an interviewKeep each slide short and significant, aiming for no more than 10 slides. This ensures the information you deliver is memorable and will help you to stand out from other intervieweesUse a range of formats to help illustrate your points. Include graphs, statistics, diagrams, video clips, and images to help break up large volumes of text and maintain the attention of the interviewersInclude quotes from industry leaders and/or research pieces. This helps give your points authority and demonstrate your commercial awarenessIncorporate company colours or fonts in the design of your presentation. This will show you've done your research and highlight your brand awarenessCheck spelling and grammar thoroughly – small mistakes can really undermine the content of your presentationPresenting tipsPresent confidently and enthusiastically. Remember to speak clearly, make eye contact and use open body languagePractice, practice, practice. Ensure you are well rehearsed so that you are familiar with the structure and are able to deliver your presentation smoothlyArrive early to give yourself time to set up the presentation and settle any nervesGet comfortable with PowerPoint and presentation equipment. Make sure you know how to work the projector, visual screens or remote control before you begin to avoid any awkward stumbles or pausesHave access to multiple sources of your presentation. Email the file to yourself and the recruiter, bring a copy on a USB stick and bring printed handouts. This way you are covered if anything goes wrong with the file you're intending to useStay within the allocated time. If you have not been given a guidance on length, aim for the 10 minute mark. Time your presentation when you are practising to make sure it will fit within your allowed time slot. If you need to reduce the content of your presentation, cut out the least relevant or weakest pointsBe prepared to adapt. You may have practiced your presentation in a certain way, but the interviewer might not respond accordingly. Be prepared to be stopped for questions or further discussion unexpectedly10 minute interview presentation templateBelow is an example for the structure of your interview presentation. Use this as a baseline and adapt or reorder where appropriate based on the task you have been set by the interviewer.Slide 1:Introduction – Reiterate the objectives you have been set and lay out the structure of your presentation so that the interviewers know what to expectSlide 2:About you – Detail your professional experience, skills and working styleSlide 3:Company history – Give a brief summary of the company history, any milestones or awardsSlides 4-7:Answering the brief – Give your responses to questions you've been asked to answer, the benefits and limitations of your suggestionsSlide 8:Question and answers – Include a slide titled 'questions and answers' as a cue to pause for interactionSlide 9:Conclusion – Sum up the key points you have made, reach a decision and explain your reasoningSlide 10:Personal achievements – End the interview on a high with a brief slide on achievements that show you will succeed in the roleTaking these steps should help you to succeed in your presentation interview.