Reed's recruitment process outsourcing (RPO) arm, provides expertise across large scale volume provision, cyclical demand, and specialist outsourced recruitment projects.
We have a proven track record in helping businesses navigate constantly-evolving workforces and deliver the talent they require.
Whether your team lacks the capacity to manage fluctuating and recurring demand, is unable to rapidly access talent with the right skill sets, face challenges when it comes to budgets and recruitment spend, or want to improve your processes and the candidate experience, we're here to help.
We have developed fully flexible and bespoke solutions to address ever-evolving talent requirements. We offer the following three service categories to support your RPO recruitment strategy:
On-demand RPO – The rapid scaling up of your talent acquisition and onboarding capacity to meet shifting demands

Full or modular RPO – An end-to-end solution or modular services to enhance your existing recruitment function

Advisory – We review and redesign your recruitment approach to support transition
By working with us, you will be partnering with experienced RPO teams who take ownership in delivering the talent you need, when you need it. Hundreds of organisations have used our solutions to improve access to talent, reduce time to hire, increase retention, generate cost savings and ensure compliance.
The world's largest family-run recruitment company

Reed is the world's largest family-run recruitment company. Having spent over 60 years hiring workers across 20 specialist sectors, we are pioneers in specialist recruitment solutions. Reed's purpose is improving lives through work. We achieve this every day by living our three core values:

We are fair open and honest

We take ownership

We work together

​

18% of Reed is owned by the Reed Foundation, which supports charities around the world, meaning that one day a week, we're working for charity. By working with us, you're also helping us to support these great causes.

Meeting all your recruitment needs

Our unique end-to-end coverage means we can support you with a range of services, beyond that of a typical recruitment agency. Whether you need to hire talent, a range of workforce solutions, consultancy services, professional development support or pre-employment screening – we're here to support all of your needs.

Market leading guarantees

Our thorough, meticulous approach to recruiting c-suite professionals is unbeatable, so Reed is confident enough to be able to offer competitive guarantees when you find your next high-performer through us.

Data and technology driven

We use a combination of data and technology to optimise your recruitment solutions. The teams use cutting-edge recruitment technology to deliver the best candidate and client experiences, as well as capture data to provide insights for our optimisation process.

​

Using this data, we constantly measure whether your desired results are being delivered. Our teams will optimise your service and deliver continuous improvements to ensure that your desired outcomes are achieved.

Industry leading screening

Reed's top priority is the safety and wellbeing of everyone we work with. All our candidates are pre-screened by our dedicated in-house screening team. We perform reference checks, eligibility to work checks, and ongoing compliance checks.
Job campaign banner background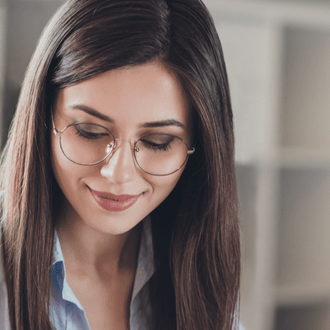 Article
8 ways to get a job with no experience
You need experience to get a job, but you need a job to get experience... How do you get your foot on the ladder? Whether you're fresh out of education or looking to follow a new career path, feeling like you don't have the experience to land that first job can be frustrating. So, here are some of the ways you can achieve the (seemingly) impossible and get a job with no experience!Address the issueIf you lack experience, don't try to brush over the fact. A cover letter is the perfect place to address any gaps in your CV, so use the opportunity to address any concerns the employer might have. Then...Focus on what you DO haveExperience is important, but so is your attitude to work, your personality, your understanding of the company and its activity, motivation, resilience, ideas for the future - the list is endless, so don't get too hung up on any one thing.Find experience you didn't know you hadBefore you decide you don't have the experience, make absolutely sure this is true. Think back over your past jobs and try to draw links between the experience you need and the experience you have. Remember: it needn't be exactly the same; the key word to keep in mind is relevant. If you've organised a meeting or answered the phones, that's admin experience. If you've set up a Facebook page or created a flier, that's marketing. Think outside the box!Create some experienceDo some voluntary work, work experience, or an internship."Don't be afraid to start from scratch. Getting your foot in the door is crucial, and you never know what might come next."But (as above) make sure the experience you're getting is relevant. If you're still taking your first steps, don't waste time with unrelated work, especially if it's unpaid!Demonstrate your intentIf you really want to get into a particular industry, make sure that people know about it. Get involved in relevant industry discussions on LinkedIn, join relevant groups, attend networking and careers events, and make sure you make your enthusiasm public.NetworkIf you don't have the desired level of experience, you need to be trustworthy. Network, and get your contacts to recommend you. Employers are more likely to overlook the gap in your experience if you come with a recommendation from someone they can trust. Find out more about effectiveness networking.Apply speculativelyIf you only apply for advertised jobs, you're going to be assessed against set criteria. Apply speculatively to companies that interest you, demonstrate you've done your research, and ask if there's any opportunities for you as you're looking to break into the industry. If the answer is no, ask if you can apply again in 6 months, and find out what you can do in the meantime to improve your chances.Get an interviewIf nothing else, just focus on getting an interview. This is easily the best situation in which to address your lack of experience and the best place to sell your other strengths. Remember: whether you can do the job is just one factor the interviewer is considering, alongside your motivation, and your fit with the company culture. Ace both of these and who knows... 2 out of 3 might be enough!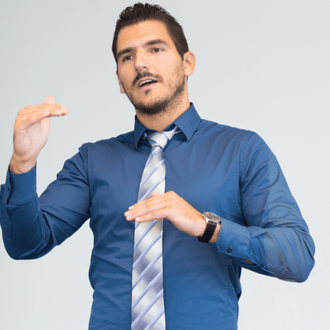 Article
How to prepare for an interview presentation
​Particularly for executive level positions, a presentation stage can be an integral part of the short-listing process.Many employers opt for a presentation interview as it gives a better overview of your general aptitude when compared to (or combined with) a traditional question and answer interview. The presentation is your opportunity to showcase your knowledge, experience and communication skills as well as your general organisation and diligence.Here are our tips on how you can ensure you deliver the best interview presentation possible.Preparing your presentation for an interviewKeep each slide short and significant, aiming for no more than 10 slides. This ensures the information you deliver is memorable and will help you to stand out from other intervieweesUse a range of formats to help illustrate your points. Include graphs, statistics, diagrams, video clips, and images to help break up large volumes of text and maintain the attention of the interviewersInclude quotes from industry leaders and/or research pieces. This helps give your points authority and demonstrate your commercial awarenessIncorporate company colours or fonts in the design of your presentation. This will show you've done your research and highlight your brand awarenessCheck spelling and grammar thoroughly – small mistakes can really undermine the content of your presentationPresenting tipsPresent confidently and enthusiastically. Remember to speak clearly, make eye contact and use open body languagePractice, practice, practice. Ensure you are well rehearsed so that you are familiar with the structure and are able to deliver your presentation smoothlyArrive early to give yourself time to set up the presentation and settle any nervesGet comfortable with PowerPoint and presentation equipment. Make sure you know how to work the projector, visual screens or remote control before you begin to avoid any awkward stumbles or pausesHave access to multiple sources of your presentation. Email the file to yourself and the recruiter, bring a copy on a USB stick and bring printed handouts. This way you are covered if anything goes wrong with the file you're intending to useStay within the allocated time. If you have not been given a guidance on length, aim for the 10 minute mark. Time your presentation when you are practising to make sure it will fit within your allowed time slot. If you need to reduce the content of your presentation, cut out the least relevant or weakest pointsBe prepared to adapt. You may have practiced your presentation in a certain way, but the interviewer might not respond accordingly. Be prepared to be stopped for questions or further discussion unexpectedly10 minute interview presentation templateBelow is an example for the structure of your interview presentation. Use this as a baseline and adapt or reorder where appropriate based on the task you have been set by the interviewer.Slide 1:Introduction – Reiterate the objectives you have been set and lay out the structure of your presentation so that the interviewers know what to expectSlide 2:About you – Detail your professional experience, skills and working styleSlide 3:Company history – Give a brief summary of the company history, any milestones or awardsSlides 4-7:Answering the brief – Give your responses to questions you've been asked to answer, the benefits and limitations of your suggestionsSlide 8:Question and answers – Include a slide titled 'questions and answers' as a cue to pause for interactionSlide 9:Conclusion – Sum up the key points you have made, reach a decision and explain your reasoningSlide 10:Personal achievements – End the interview on a high with a brief slide on achievements that show you will succeed in the roleTaking these steps should help you to succeed in your presentation interview.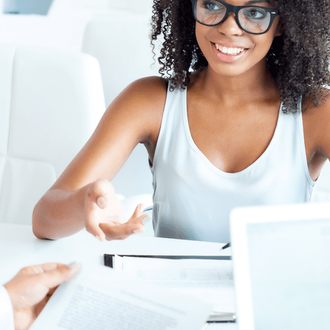 Article
Top 10 competency-based interview questions to find the perfect candidate
This list of competency-based questions encourage interviewees to use real-life examples in their answers. You get to understand how a candidate made a decision, and see the outcome of their actions.Our top ten list of competency-based interview questions will help you recruit the skills your team needs.1. What are your greatest strengths?This is a classic interview question, and with good reason.It's a chance for your candidate to prove they have the right skills for the role. Keep the job description in mind to see whether the interviewee understands how their skills relate to the role.Remember you're looking for transferable skills, not proof that they've done the role before.2. What will your skills and ideas bring to this company?This competency-based question is an opportunity to see which of your candidates stand out from the crowd.A good candidate will show an understanding of your company goals within their answer. A great candidate will offer practical examples of how their skills can help you achieve that vision.3. What have you achieved elsewhere?Confidence is key in this competency-based question. It gives your candidate an opportunity to talk about previous successes and experiences that relate to your vacancy.Make sure the achievements you take away from their answers are work-related and relevant to what you're looking for.4. How have you improved in the last year?Candidates can tie themselves up in knots trying to disguise their weaknesses. This competency-based interview question is a chance to show a willingness to learn from their mistakes.It's also an opportunity to test the candidate's level of self-awareness and desire to develop."Competency-based interview questions ask for real-life examples to show a candidate's skills."5. Tell me about a time you supported a member of your team who was strugglingThis competency-based question will test your candidate's ability to show compassion towards their colleagues without losing sight of their own objectives.Those further along in their career should be able to reference training or mentoring that not only helped their co-worker but also improved team performance.6. Give an example of a time you've had to improvise to achieve your goalIn other words: "Can you think on your feet?" It is increasingly important to be able to react to unexpected situations.The candidate's answer should highlight their ability to keep their cool and perform in a scenario they haven't prepared for.7. What was the last big decision you had to make?The answer to this question should be a window into your candidate's decision-making process and whether their reasoning is appropriate for your role.This is a competency-based question designed to highlight how an interviewee makes decisions. Do they use logical reasoning? Gut intuition? However they manage big decisions, does their approach match what you're looking for?8. Tell me about a time you dealt with a difficult personAll candidates should be able to reference an experience of working with a challenging colleague. Look for them to approach this question with honesty and a clear example of working through the experience.Rather than passing blame, there should be a recognition of the part they have played in the situation, and how they might tackle it differently next time.It's essential to get a sense of how candidates would fit and thrive within your company culture.9. What was the last thing you taught?You've asked the interviewee about their skills, but can they show a capability for teaching others about these skills?This question isn't restricted to managerial or senior roles, and should be asked whenever you're looking for a candidate who will add value to your team.10. Why are you a good fit for this company?The key to this competency-based question is whether the candidate can explain how their transferable skills would fit your role. This tests both an awareness of their own abilities and an understanding of what you are looking for in a new employee.The candidate should be able to confidently explain why they want to work for your company, and convince you that they would fit your team culture.If you're interested in learning more about interviews, please contact your local recruitment specialist.